Our first annual Bike for Prevention virtual Bike-A-Thon was a success!
Monday, April 19th thru Sunday, April 25th, 2021.
Bike for Prevention is a family-friendly virtual Bike-A-Thon to benefit Massachusetts Breast Cancer Coalition (MBCC). MBCC is the only non-profit in the state dedicated to the prevention of breast cancer from environmental causes. The funds raised through Bike for Prevention will benefit MBCC's community education and outreach efforts. We are grateful to all of you who help to prioritize breast cancer prevention.
You can participate in Bike for Prevention anytime between April 19 thru April 25th, and ride 1 mile or more on your favorite route or indoors on a stationary bike! If you don't have a bike, we invite you to join us on foot and walk or run a distance of your choosing!
All participants will receive a free event T-shirt! (Please note that T-shirts will be mailed to participants within 72 hours of registration. Due to potential delays with the U.S. Postal Service, we cannot guarantee that your shirt will arrive prior to the event).
Registration has closed.
Individual Registration — $40
Student Registration — $25
Family Registration — $150, for up to 5 family members
Questions about the events or registration? Please contact Cheryl Osimo, Executive Director at 508-246-3047 or cosimo@mbcc.org Please use the subject line "Bike for Prevention Support Needed".
Fundraising Incentives
Above and beyond your commitment to participate in Bike for Prevention, we hope that you will also fundraise on behalf of MBCC and our important mission to change the legacy of breast cancer for future generations.
The highest individual fundraiser will receive the great prize package shown below.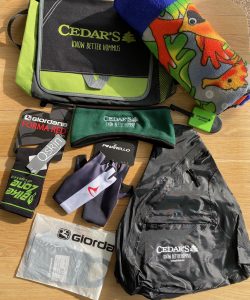 The highest family fundraisers will receive the prize package shown below.
Important Links: