Join Massachusetts Breast Cancer Coalition for the first annual Bike for Prevention virtual Bike-A-Thon!
Monday, April 19th thru Sunday, April 25th, 2021.
Bike for Prevention is a family-friendly virtual Bike-A-Thon to benefit Massachusetts Breast Cancer Coalition (MBCC). MBCC is the only non-profit in the state dedicated to the prevention of breast cancer from environmental causes. The funds raised through Bike for Prevention will benefit MBCC's community education and outreach efforts. We are grateful to all of you who help to prioritize breast cancer prevention.
You can participate in Bike for Prevention anytime between April 19 thru April 25th, and ride 1 mile or more on your favorite route or indoors on a stationary bike! If you don't have a bike, we invite you to join us on foot and walk or run a distance of your choosing!
All participants will receive a free event T-shirt!
Registration – Click Here to Register
Individual Registration — $40
Student Registration — $25
Family Registration — $150, for up to 5 family members
Important information about the FirstGiving Registration Site:
Please note that the new FirstGiving registration platform now requires all registrants to have a Username. When registering, please create a new FirstGiving account, providing an email, username, and password.
If you have recently registered for another event on FirstGiving you may encounter either of the following error messages:
"Username is already in use. Please use a different username", or
"Your username or password is incorrect. If you don't remember your password, reset it now".
If so, please create a new Username by typing in a new name in the Username field and then click the Register button. Please note that you do not need to enter a new email address or a new password. Your Username should be 8 characters including at least 1 letter and 1 number.
Questions about the events or registration? Please contact our Event Coordinator at 800-649-6222 or info@mbcc.org or Cheryl Osimo, Executive Director at 508-246-3047 or cosimo@mbcc.org Please use the subject line "Against the Tide Event Support Needed".
Fundraising Incentives
Above and beyond your commitment to participate in Bike for Prevention, we hope that you will also fundraise on behalf of MBCC and our important mission to change the legacy of breast cancer for future generations.
The highest individual fundraiser will receive the great prize package shown below.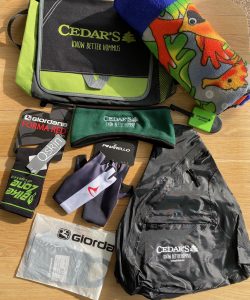 The highest family fundraisers will receive the prize package shown below.
Important Links: