Dear Friends,
Thank you for your contributions to the 2015 Against the Tide events held in Hopkinton, MA and Brewster, MA.  At the Against the Tide 2015 events, breast cancer prevention supporters have raised an impressive $140,505 with more fundraising dollars coming! The value of your support cannot be quantified, nor can our immense gratitude. When passionate individuals join together for a common cause like you did on June 20th and August 15th, we get a glimpse of our vision of a better world for our children, grandchildren, and future generations.
Because of you – our volunteers, athletes, and sponsors – the Massachusetts Breast Cancer Coalition (MBCC) can more effectively provide better community education, greater research advocacy, and additional changes to public policy in order to move toward our goal of breast cancer prevention.
Against the Tide fundraising directly supports MBCC's statewide Let's Talk Prevention: Reducing Toxic Exposures educational program, the only one of its kind. This program increases discussions about environmental exposures between health professionals and patients, and enables us to support communities throughout Massachusetts by helping them reduce exposure to chemicals of concern.
The more money we raise, the more people we can reach. We remind you that fundraising pages will remain open and accepting pledges until November 20 for both the Against the Tide Hopkinton and Against the Tide Brewster events. You can also mail your pledges directly to MBCC: PO Box 222, Rockland, MA 02370.
We hope that your experience at Against the Tide was everything that you expected it would be. In order to insure that the Massachusetts Breast Cancer Coalition continues to prosper through events like Against the Tide, we welcome your comments. If you have suggestions for future Against the Tide events, please email them to cosimo@mbcc.org.
The Massachusetts Breast Cancer Coalition staff and Board of Directors express our sincerest appreciation for your support. Because of you, we are inspired to press on toward a world where breast cancer no longer robs families of their loved ones.
We hope to see you again at our Against the Tide events in Hopkinton on June 18, 2016 and on Cape Cod on August 20, 2016.
With heartfelt thanks and appreciation,
Cheryl Osimo
Executive Director
cherylosimo@comcast.net
508-246-3047

Against the Tide Cape Cod 2015 Podium Results
Against the Tide Cape Cod 2015 ALL Participants Results
Against the Tide Hopkinton 2015 Podium Results
Weeks after the event, the donations continue to roll in and we are extremely grateful!  We are pleased to acknowlede the Current Top Three Individual Fundraisers
1.   Lucy Duffy
2. Justine Dymond
3.  Esther Kohn
Top Three Individual Fundraisers, as of the day of the event (August 15, 2015)
1.   Justine Dymond
2.  Maria Vetrano
3.  Susan Demarest
Top Team Fundraiser
Beyond Beauty of Cape Cod
Brewster Podium Winners   **(Please note all Aquathon run times include transition time)
Aquathon 5K Male: Jake Bright – Swim: 24:46/Run 23:12/Total 50:58
Aquathon 5K Female: Mary Marengi – Swim: 27:36/Run: 28:53/Total 59:37
Aquathon 10K Male: George Stanley, Jr. – Swim: 36:16/Run 54:45/Total 1:33:44
Aquathon 10K Female: Trish Corey – Swim: 31:51/Run: 54:43/Total 1:29:16
5K Runner Male: Jake Bright – 23:12
5K Runner Female: Mary Marengi 28:53
10K Runner Male:  George Stanley, Jr. – 54:45
10K Runner Female:  Ekaterina Bobrovnikova Marjon – 54:10
Competitive Swim Male: Gator Pritchard – 20:48
Competitive Swim Female: Annmarie Kordish – 24:48
 Aquathon 5k Times
Jake Bright  (M) – Swim: 24:46/Run 23:12/Total 50:58
Mary Marengi (F) – Swim: 27:36/Run: 28:53/Total 59:37
Lucy Duffy (F) – Swim: 1:00:26/Run: 57:28/Total 2:05:54
Aquathon 10K Times
Trish Corey (F) – Swim: 31:51/Run: 54:43/Total 1:29:16
Stephanie Poremba (F) – Swim: 25:50/Run: 1:00:45/Total 1:30:20
George Stanley, Jr. (M) – Swim: 36:16/Run 54:45/Total 1:33:44
Kelsie Paquin (F) – Swim: 31:23/Run: 59:14/Total 1:34:26
Philip Marjon (M) – Swim: 40:45/Run: 54:15/ Total 1:41:15
Rashelle Hayes (F) – Swim: 50:28/Run: 1:02:04/Total 2:08:26
Top 10 5K Run Times
Jake Bright (M) – 23:12
Mark Dursin (M) – 26:12
Daniel Bonney (M) – 26:21
Caleb Clarkson (M) – 26:35
Brian Daley (M) – 28:15
Mary Marengi (F) – 28:53
Timothy Levesque (M) – 29:43
Michelle Svenningsen (F) – 30:18
Michael Svenningsen (M) – 30:24
William Walls (M)  – 31:42
 Top 10 10K Run Times
Ekaterina Bobrovnikova Marjon (F) – 54:10
Philip Marjon (M) – 54:14
George Stanley Jr. (M) – 54:45
Lynn Travers (F) – 55:14
Catherine Macallister (F) – 58:12
Kelsie Paquin (F) – 59:14
Rashelle Hayes (F) – 1:02:04
Michelle Ortiz (F) – 1:02:22
Susan Demraest (F) – 1:04:19
SaraLambton (F) – 1:04:19
Top 10 Competitive 1-Mile Swim
Gator Pritchard (M) – 20:48
Jake Bright (M) – 24:46
Annmarie Kordish (F) – 24:48
Deb Pritchard (F) – 24:49
David Schubert (M) – 24:50
Anthony Tambascia (M) – 25:06
Gracie O'Connell (F) – 25:07
Claire Murphy (F) – 25:14
Pamela Rogers (F) – 25:15
Stephanie Poremba (F) – 25:50
Top 10 Recreational 1-Mile Swim
Patricia Warner (F) – 31:25
Bernadette Farrell (F) – 32:26
Elana Steinberg (F) – 32:27
Mary Chaffee (F) – 36:37
Joan Nagle (F) – 37:50
Shira Lion (F) – 39:04
Noah Lion (M) – 39:05
Colleen Bottcher (F) – 39:38
Michelle Porche (F) – 39:55
Becky Pelletier (F) – 41:28
** For all other Cape Cod Against the Tide timing results, please click here.**
Top Three Individual Fundraisers
1. Diane Sokal
2.  Diane Werenski
3. Justine Grossman
Top Team Fundraiser
Pennsylvania Piranhas
Hopkinton Podium Winners   **(Please note all Aquathon run times include transition time)
Aquathon 5K Male: Justin Farmer –  Swim: 26:56/Run: 23:36/Total:52:35
Aquathon 5K Female: Maureen Larkin – Swim: 41:25/Run: 24:32/Total: 1:05:57
Aquathon 10K Male: Mark Nelson – Swim: 32:17/Run: 52:29/Total: 1:24:46
Aquathon 10K Female: Maura Kelly – Swim: 37:01/Run: 1:01:27/Total: 1:38:28
5K Runner Male: David Young – 22:52
5K Runner Female: Lisa Fortuna – 24:04
10K Runner Male:  Mark Nelson – 52:29
10K Runner Female: Helen Quach – 55:10
Competitive Swim Male: Andrew Gillie -26:15
Competitive Swim Female: Camille DeSisto – 27:55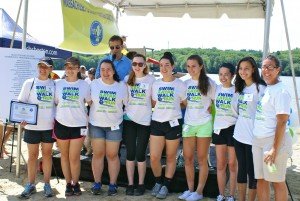 Aquathon 5k Times
Justin Farmer  (M) – Swim: 26:56/ Run: 23:36/ Total: 52:35
Maureen Larkin  (F) – Swim: 41:25/ Run: 24:32  / Total: 1:05:57
Laura Otenti  (F) – Swim: 39:01 / Run:  34:09/ Total: 1:13:10
Dahyam Matiz  (F) – Swim: 43:21 / Run: 40:14 / Total: 1:23:35
Aquathon 10K Times
Mark Nelson  (M) – Swim: 32:17/ Run: 52:29 / Total: 1:24:46
Maura Kelly  (F) – Swim:  37:01/ Run: 1:01:27/ Total: 1:38:28
Chris Nelson  (M) – Swim: 58:33 / Run: 1:03:29 / Total: 2:02:02
Top 10 5K Run Times
David Young (M) – 22:52
Justin Farmer (M) – 23:36
Jack Mascolo (M) – 23:44
Peter Mancalii (M) – 24:05
Maureen Larkin (F) – 24:32
Timothy Tourigny (M) – 25:21
Lisa Fortuna (F) – 24:04
Richard Mascolo (M) – 26:20
Caitlin Thomas (F) – 26:21
Fiona Ness (F) – 26:30
Top 10 10K Run Times
Mark Nelson (M) – 52:29
Daniel Naylor (M) – 53:04
Tam Duong (M) – 55:09
Helen Quach (F) – 55:10
Doug Roerden (M) – 57:25
Melissa Cromwell (F) – 1:00:41
Maura Kelly (F) – 1:01:27
Chris Nelson (M) – 1:03:29
Top 10 Competitive 1-Mile Swim
Andrew Gillie (M) – 26:15
Justin Farmer (M) – 26:56
Camille DeSisto (F) – 27:55
Tanya Roy (F) – 30:21
Hillary Rodriguez (F) – 31:13 /Daniela Klaz (F) 31:13
Linda Watts (F) – 31:22
Mark Nelson (M) – 31:17
Kyle Murphy (M) – 33:09
Justine Grossman (F) – 34:31
Chris DeSisto (M) – 34:36
Top 10 Recreational 1-Mile Swim
Hillary Rodriguez (F) – 31:57/ Daniela Klaz (F) 31:57
Tanya Roy (F) – 33:40
Monica Mascolo (F) – 36:27
Christina Mascolo (F) – 36:28
Amy Mascolo (F) – 36:29
Edna Grieve (F) – 40:46
Maureen Larkin (F) – 43:49
 Elaine Stratman (F) – 45:03
Diane Sokal (F) – 48:00
Linda Watts (F) – 48:01