THIS PETITION HAS CLOSED
All signatures and comments were delivered to MA legislators in January 2014.
Stay tuned for actions to take in 2014 to support Silent Spring Institute funding!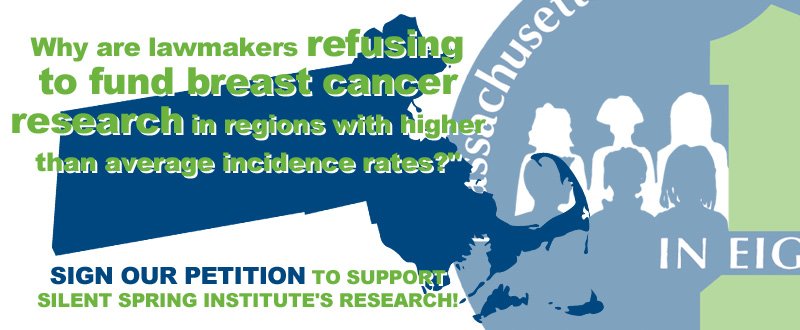 When the 2013 Massachusetts Senate budget was released, Silent Spring Institute was not included. The Massachusetts Breast Cancer Coalition repeatedly supported the request for $375,000 in state funding for sister organization, Silent Spring Institute, to expand their research on water quality in Cape Cod and Southeastern Massachusetts. Amendments to include the funding were filed in the House of Representatives and Senate but were rejected by state legislators both times.
MA lawmakers refused to fund research in regions with higher-than-average breast cancer rates by rejecting 2013 requests for state funding for Silent Spring Institute to expand water research on Cape Cod and Southeastern, MA.
Click here to read the press release
We would like to thank the entire Cape Cod delegation for their support in trying to push through this important line item in 2013. In addition, we would like to thank the following legislators for their support:
Representative Atkins (Concord)
Senator Brownsberger (Second Suffolk and Middlesex)
Senator Creem (First Middlesex and Norfolk)
Representative Garballey (Arlington)
Representative Kahn (Newton)
If your Senators and/or Representatives are listed above, send them a thank you. To contact your state Representatives and state Senators directly, you can find their phone number and/or email address at www.malegislature.gov/People/Search