Results from a study published in the Journal of the American Medical Association show that advanced breast cancer (breast cancer that has spread to the bones, brain or lungs) is increasing in young women. The study, conducted by Rebecca Johnson, analyzed data from the National Cancer Institute's Surveillance, Epidemiology, and End Results (SEER) database dating back to 1976. The study concludes that there has been a statistically significant increase in breast cancer incidence among women aged 25-39 and this increase does not correspond to an increase in incidence for older women.
Click here to read the abstract from the Journal of the American Medical Association
Our sister organization, Silent Spring Institute, is quoted once again in an article about environmental links to disease!  This article, published in Environmental Health News today, discusses a cohort study of investigating diseases over time. These studies are significant not only in that they enable researchers to see how disease progresses throughout an individual's life course, but how environmental exposures early on may have an effect on disease expressed later in life. Silent Spring Institute Executive Director, Julia Brody says, "It's so helpful to have both measurements collected years ago and the potential to follow people for a long time to see what happens."
Media Coverage
Breast Cancer and the Environment Studied for Half a Century, Environmental Health News

An article published today in Environmental Health News quotes Ruthann Rudel, Director of Research at our sister organization, Silent Spring Institute.  The article, titled "Breast Cancer and the Environment: Women's Exposures Early in Life Could Unlock Mysteries" byLindsey Konkel follows the Federal Interagency Report on Breast Cancer and the Environment and asks critical questions about environmental contaminants and true breast cancer prevention.  Ruthann Rudel is quoted regarding the 2011 Silent Spring Institute review on literature of environmental exposure and mammary gland development.
A report commissioned by the Center for Environment and Health and co-released by the Alliance for a Healthy Tomorrow finds chemical flame retardants in children's nap mats. Our sister organization, Silent Spring Institute, has also conducted research on flame retardants. They found these chemicals in the house dust of most homes sampled, often at levels above federal guidelines.

Flame retardant chemicals have been linked to cancer, endocrine disruption, problems with reproductive development and more.
Click here to read the full report
Click here for information about Silent Spring Institute's research on flame retardants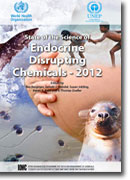 On Tuesday February 19, 2013 an international panel of expert scientists released a report for the World Health Organization (WHO) and United Nationals Environment Programme titled, "State of the Science: Endocrine Disrupting Chemicals".  This report acknowledges the threat to human health posed by endocrine disruptors, or compounds that mimic natural hormones or otherwise disrupt hormone regulation. Many of these, especially those that mimic estrogen, have been linked to an increased risk of breast cancer and have been linked to the development of mammary tumors in animal studies (according to a review conducted by Silent Spring Institute researchers).
Earlier this week the Federal Interagency Breast Cancer and Environmental Research Coordinating Committee (IBCERCC) released a monumental report "Breast Cancer and the Environment: Prioritizing Prevention." The Massachusetts Breast Cancer (MBCC) is ecstatic that breast cancer prevention and environmental links to the disease are gaining attention from the federal government.
We want you to share in our excitement and so, we have created this summary for you:
What is the report "Breast Cancer and the Environment: Prioritizing Prevention"?
The Breast Cancer and the Environment Research Act, passed by Congress in 2008, required the establishment of the IBCERCC to look at the state of current information and research on breast cancer and the environment, to identify gaps in knowledge, and to recommend ways to fill these gaps. This 270 page report, released on Tuesday, February 12, 2013 summarizes the findings and of IBCERCC.
The full report outlines the burden on society produced by breast cancer and describes major advances in prevention, diagnosis, and treatment. It summarizes evidence for environmental risk factors from human and animal studies taking care to point out themes crosscutting the two.  While each and every page is critical to the understanding of current knowledge in the field, we are most interested in the seven recommendations for moving forward towards true prevention of breast cancer.
What does the report recommend?
1. PRIORITIZE PREVENTION:
We need a national strategy to increase and prioritize federal funding of research in breast cancer prevention. MBCC has been calling for increased funding of prevention research for years, and we created Silent Spring Institute (SSI) in 1994 to help fill this gap.
2. TRANSFORM HOW RESEARCH IS CONDUCTED:
We need a more transdisciplinary approach to research in order to overcome some limitations of current methodologies such as the interrelationship between genes and environmental factors, exposure over a lifetime, multiple risk factors working in combination, critical periods or ages at which an individual may be more or less susceptible to different risks, and disproportionate exposure and rates of breast cancer for minority populations.
3. INTENSIFY THE STUDY OF ENVIRONMENTAL FACTORS:
We need more research on the chemical and biological risk factors including endocrine disruptors, low-dose radiation, and other environmental agents that affect the mammary gland.
4. PLAN ACROSS FEDERAL AGENCIES:
We need more coordination between federal, state, and nongovernmental organizations to close gaps in research linking breast cancer and the environment.
5. ENGAGE PUBLIC STAKEHOLDERS:
We need to ensure that future research projects include the voice of the public and affected communities. In this recommendation the IBCERCC calls for more "active participation of breast cancer advocates, community representatives, and members of the public in research planning and prioritization." This was our goal at MBCC when SSI was founded as a research institute with clear and concrete ties to breast cancer activists, ensuring that the voice of the people is heard throughout the research process.
6. TRAIN TRANSDISCIPLINARY RESEARCHERS:
We need federal programs to help facilitate transdisciplinary research.
7. TRANDSLATE AND COMMUNICATE SCIENCE TO SOCIETY:
We need to make the communication of research results an integral piece of all research on breast cancer and the environment. Here, too, MBCC is ahead of the game. With SSI researchers, we assist in the presentation of research findings and implications directly back to the community via speaking engagements and educational programs on Cape Cod, throughout Massachusetts, and across the country.
CLICK HERE TO READ THE FULL REPORT OR EXECUTIVE SUMMARY

NY Times Op-Ed Contributor, Florence Williams, writes about participating in the pilot study of Silent Spring Institute's dietary intervention research in an article titled "Eat Like a Mennonite".
CLICK HERE TO READ THE FULL ARTICLE
Flame retardants sound like a good idea to prevent our couches and computers and carpets from combusting. Yet these chemicals also accumulate and linger in our homes, sometimes winding up in household dust at levels of health concern. That was one of the central findings of a recent Silent Spring Institute study, the first to test for a wide range of flame retardants in homes.
Consumer products such as furniture, textiles, and electronics often contain chemical flame retardants.  These chemicals can come out of the products into house dust and the environment where people are exposed to them.  House dust is a major source of exposure, particularly for children.  Flame retardants have been detected in human blood, urine, breast milk, indoor and outdoor air, house dust, food, and wildlife around the world.
Institute researchers tested for 49 flame retardant chemicals in household dust, the main route of exposure for people and especially for children. Forty-four chemicals were detected. Most homes had at least one chemical above a federal health guideline. The flame retardants found in house dust include carcinogens, hormone disruptors, and chemicals with unknown safety profiles.
"Our study found that people are exposed to toxic flame retardants every day," said Robin Dodson, PhD, a coauthor of the study and a scientist at Silent Spring Institute. "These hazardous chemicals are in the air we breathe, the dust we touch, and the couches we sit on. Many flame retardants raise health concerns, including cancer, hormone disruption, and harmful effects on brain development. It is troubling to see that a majority of homes have at least one flame retardant at levels beyond what the federal government says is safe. Infants and toddlers who spend much time on the floor are at higher risk for exposure."
Silent Spring Institute researchers first began studying flame retardants in Cape Cod homes, where they discovered levels of PBDE flame retardants were much higher than in Europe. Then in 2006, Silent Spring researchers found that Californians had even higher levels of PBDEs in their homes and bodies than the rest of the nation, likely the result of a unique statewide furniture flammability standard. That same year, California banned two commercial PBDE flame retardant mixtures, PentaBDE and OctaBDE. These chemicals were phased out nationwide.
When the researchers resampled the homes as part of the more recent study, after the PentaBDE and OctaBDE ban, they found increased levels of a new replacement for PentaBDE, Firemaster® 550. PentaBDE levels fell significantly in homes that added new furniture, electronics, and flooring, indicating exposure shifts when products were replaced after the PentaBDE phase-out.
In contrast, people who added new furniture between sampling rounds had an increase in a listed carcinogen under California's Proposition 65 (TDCIPP, or chlorinated "Tris"), suggesting its use as a PentaBDE replacement. TDBPP (brominated "Tris") was detected in 75 percent of the homes. This chemical was banned in children's sleepwear in 1977 because of its potential to cause cancer but is still allowed in other products; this is the first report on TDBPP in household dust. The results suggest that after the phase-out of PentaBDE and OctaBDE, manufacturers continued to use hazardous chemicals as flame retardants and to replace chemicals of concern with chemicals with uncharacterized toxicity.
"When one toxic flame retardant is phased out, it's being replaced by another chemical we either know is dangerous or suspect may be," said Julia Brody, PhD, executive director of Silent Spring Institute and a study coauthor. "It's not comforting to swap one hazardous chemical for its evil cousin. Instead, we should test chemicals before they are allowed on the market."
California's strict flammability standard for polyurethane foam in furniture affects exposures nationwide, because manufacturers design products sold through the U.S. to meet the rule. Yet according to fire safety expert Dr. Vytenis Babrauskas, the California flammability standard "provides no meaningful protection against the hazard it addresses – furniture ignited by small flames. In view of the toxicity of substances put into furniture foam to meet the California standard, the rule does more harm than good."
Silent Spring Institute's study adds groundbreaking new evidence to support California Governor Jerry Brown's promise to quickly to revise the state's furniture flammability rule, which affects the health of people around the country.
The study appeared in the peer-reviewed journal Environmental Science and Technology. For more information about the study, visit www.silentspring.org/flame-retardant-follow-up.
Try This at Home: Here are some steps you can take to reduce your exposure
Go natural. Select carpets, carpet pads, bedding, cushions, and upholstered furniture made from naturally flame-resistant materials such as wool, cotton, polyester, and hemp.
Repair ripped furniture. Flame retardants are added to polyurethane foam filling, so mend any rips your couch or chair upholstery may have.
Keep down dust. Vacuum regularly with a vacuum cleaner fitted with a HEPA filter. Wipe surfaces with a wet cloth or mop.
Wash hands frequently. Hand washing does more than prevent the spread of germs; it also reduces the amount of flame retardants entering our bodies. Remember to use regular soap and water instead of antibacterial soaps, which may contain endocrine disrupting chemicals.
Buy snug pajamas for children. Sleepwear for children nine months and older is subject to flammability tests. Look for snug-fitting cotton sleepwear that is labeled as not flame resistant.
Get involved. You can help change California's furniture flammability standard. For more information, visit Green Science Policy Institute. Learn more about keeping your home healthy at www.silentspring.org/take-action.